Our studios are perfect spaces for a home gym or working office. They can be made in a range of standard sizes starting from an 8×6 or be made totally bespoke to your individual requirements. We recommend all our studios are installed on a solid level base.
Specifications and Standard Features of the Studio (included in price):
UPVC doors & windows (choice of
colours)
 3" x 2" framework
Vapour barrier
125mm x 15mm finished heavy duty cladding
 22mm caberboard flooring
 50mm Celotex insulation
 9mm painted MDF butt and bead lining (choice of white or magnolia)
8mm Kronospan laminate flooring (choice of 3  options -Antique oak, Light varnished oak & Rockford oak)
 Painted externally in Sadolin Superdec (wide choice of colours available to choose from)
 Roofing options available E.G Cedar Shingles.  
 Guttering and downpipe included (White or Black)
Sorry but we do not provide any electrics, this would have to arranged separately with an electrician of your choosing.       
Lined & Insulated Walls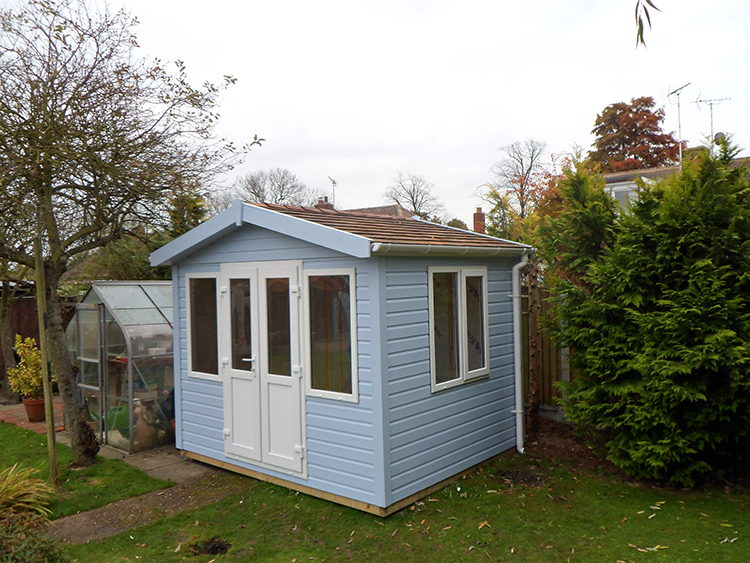 The garden offices include fully lined and insulated walls with 70mm x 45 mm softwood framework & a vapour barrier. 50mm foil backed celetex insulation board is fitted between the framework and fully lined with 9mm MDF board.
Insulated Floor
The Westleigh include a fully insulated floor with 140mm x 45mm pressure treated floor joists. The floor is a 18mm
moisture resistant particle board with 40mm polystyrene insulation fitted between the joists.
Lined & Insulated Roof
Also provided is a fully lined and insulated roof with a 50mm foil backed celetex insulation board. The roof is lined
with a 9mm MDF board.
High Specification doors & windows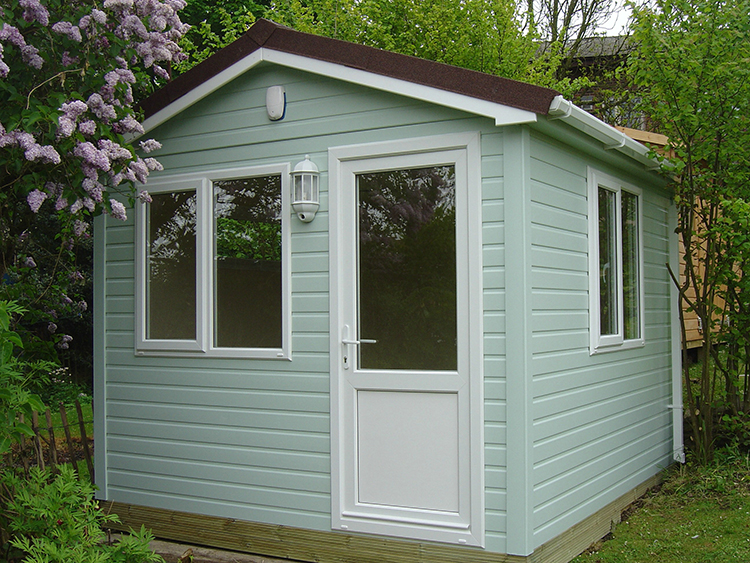 The doors in the home office are similar to those used in modern house buildings with high performance UVPC frames & sashes. Features include, multi chamber frame profiles & sealed unit toughened double glazing. All sashes are fitted with draught excluders & a high standard ironmongery. Extra doors and windows can be added for an additional extras.  
Please see a selection of previous offices below. See our Facebook page for the most recent studio builds.